The Poet Dainagon Sees an Apparition, 1860
This week is the ten year anniversary for Monster Brains, I've chosen to share a wide assortment of Kuniyoshi's incredible work to mark the occasion. Over the years Monster Brains has grown from a simple collection of links to a vast resource onto itself. This is due, in part, to my obsessive nature in collecting the artwork that I'm passionate about for myself but also my commitment to sharing this work with others that will appreciate it as well.
That said, I make my living as an artist and it has been growing more difficult to take the time away from my work to research and prepare posts for the site. You would probably be shocked to know the amount of time that I invest into many of the posts on Monster Brains. I've resisted putting advertisements on the site to take on additional revenue but recently I have placed a donation button on the site. If you appreciate Monster Brains and the work put into the thousands of artworks that I've shared over the past ten years, if you anticipate the hundreds of future posts that I have in various stages of planning, please donate whatever you can, it will be greatly appreciated.
The donation button can be found on the top right of
Monster Brains.
Thank you! I look forward to many more years of discovering and sharing the more obscure and fascinating artists associated with the genre of monsters.
Takiguchi U-Toneri Watanabe no Tsuna about to cut off the arm of Rashomon, who grasps his hair. Edo Period
Oiwake- Oiwa and Takuetsu, from the series Sixty-nine Stations of the Kisokaidô Road (Kisokaidô rokujûkyû tsugi no uchi) 1852
Wada Heita Tanenaga killing a huge python by driving his sword into the back of its head by a waterfall. Edo Period
Hangami Danjo-no-jo Arakage killing a giant salamander in the Tontagawa river in the province of Izumo, Edo Period
Tsuzoku Suikoden Goketsu Hyakuhachi-nin no Hitori, Ju-unryu Kosonsho, a sorcerer, evoking a storm-dragon. 1827
Usui Matagoro slays a giant white monkey in the mountains of Hida, a long stream of black smoke curling up from the monster's mouth, Edo Period
Shinano kuni no Zen-no-jo (Zen-no-jo of Shinano) _ Honcho nijushi-ko (Twenty-four Paragons of Filial Piety of Our Country) 1842-43
The diver Tamatori, who has penetrated the Dragon King's palace, plunging through waves with outstretched knife and Treasure Pearl, pursued by a dragon while escaping from the Dragon King, Edo Period
Usugumo (No. 19 Wisps of Cloud) 1845-46
Keyamura Rokusuke struggling with three kappa on the bank of a river in which a fourth kappa also is swimming. Edo Period
Tsuzoku Suikoden Goketsu Hyakuhachi-nin no Hitori Konsei Mao Bunzui invoking demons, stones and a storm by sorcery. 1827
Tsuzoku Suikoden Goketsu Hyakuhachi-nin no Hitori Konsei Mao Bunzui invoking demons, stones and a storm by sorcery. 1827 (version 2)
Watanabe Genji Tsuna, one of Raiko's Shitenno, grasping the arm of the demon of the Rashomon Gate, Kyoto, while drawing his sword, amidst lightning and clouds. Edo Period
San ryaku den (The Secrets of Strategy) Hodo Yoshitsune koi no Minamoto ichidaigami (Biography of Yoshitsune) 1853
The Story of Oiwa and Tamiya Lemon, 1836
Living Dolls of Asakusa's Okuyama, 1855
Title Unknown, 1856
Leftside - Ichikawa Kodanji IV as the ghost of Shingo Asakura, Rightside - Ichikawa Kodanji IV as the ghost of Asakura Tôgo, 1847-52
The sick Minamoto no Yorimitsu (Raiko) drawing his sword as the earth spider envelops him in its web. 1855
Moonlit scene of a travelling warrior receiving a child from a ghost, 1845
Taira no Koremochi killing the demon woman with a long sword. Edo Period
Momotaro and his companions the monkey, the badger, and the pheasant, with a captive demon. The Five Precious Things; on a stand behind them, 1855
Tsuzoku Suikoden Goketsu Hyakuhachi-nin no Hitori, Chusenko Teitoku-Son killing huge blue snake with his sword. 1827
Takagi Toranosuke capturing a kappa under the water in the Tamura river in the province of Sagami. Edo Period
Takeuchi-no-sukune looking over the side of his ship, being offered two magic jewels, senju and manju, by the Dragon King. 1855
Kidomaru seated cross-legged on the head of a giant python, learning magic from the tengu, 1843
The famous swordsman Miyamoto Musashi battling with a mountain hermit who has turned into a monster. Edo Period
Oki Jiro Hiroari battling the nue, revealed to be a giant tengu (bird-like goblin) 1815-19
Ryuko tako no asobi (Fashionable Octopus Games) 1840-42
Kamada Matahachi killing a monstrous cat in the mountains of Ise Province. Edo Period
Scene from a Ghost Story - The Okazaki Cat Demon, 19th C
Kintaro zukushi - Sumo no zu (The Complete Kintaro - The Sumo Bout) 1840
The Trigram Xun or Wind (Son, kaze), from the series Pictures of the Eight Trigrams in Chinese Divination (Shûeki hakke e) 1830's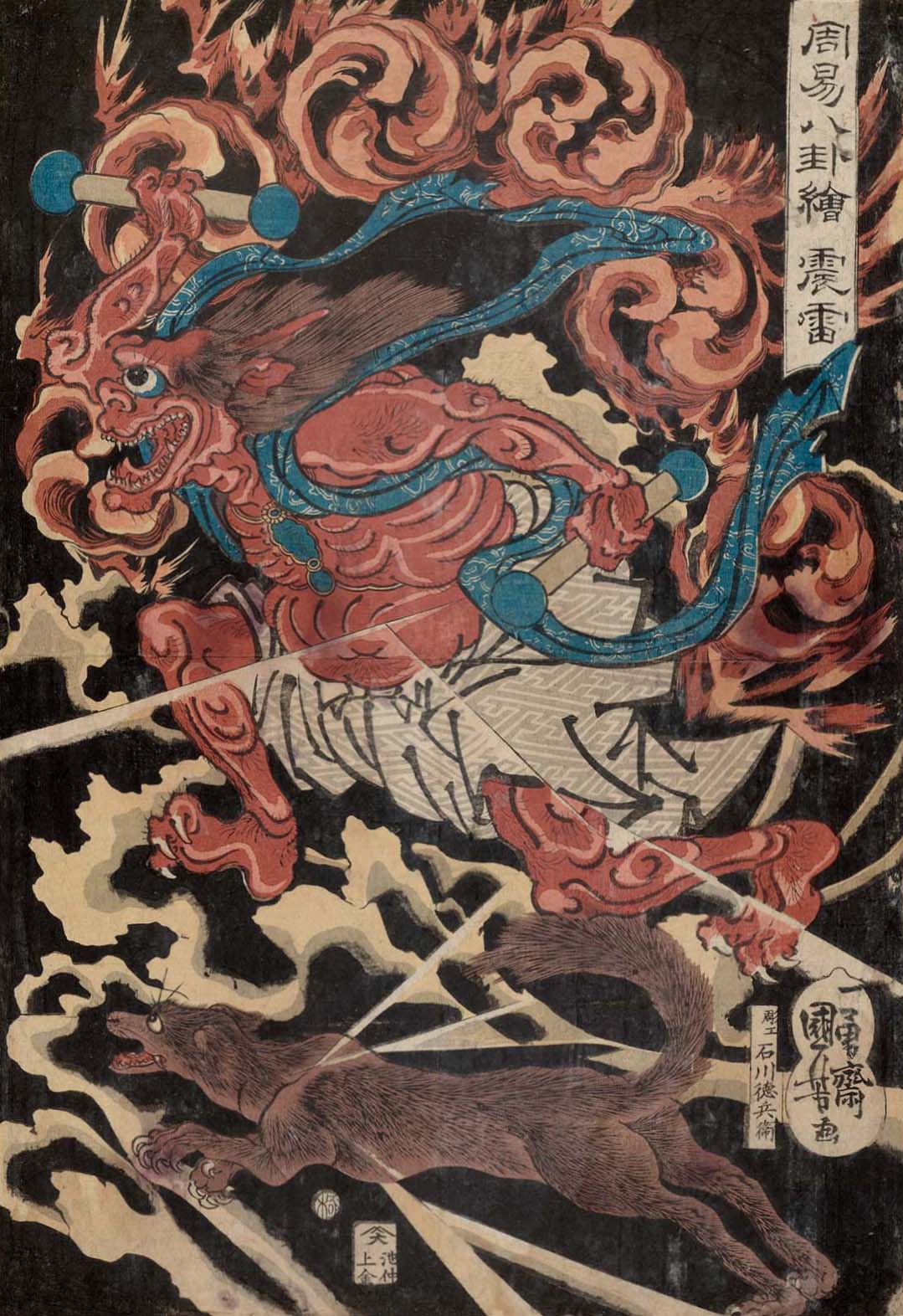 The Trigram Zhen or Thunder (Shin, kaminari), from the series Pictures of the Eight Trigrams in Chinese Divination (Shûeki hakke e) 1830's
Ôtani Furuinosuke, from the series Eight Hundred Heroes of the Japanese Shuihuzhuan (Honchô Suikoden gôyû happyakunin no hitori) 1845
Kisokaido rokujoku tsugi no uchi (Sixty-Nine Post Stations of the Kisokaido) 1852
Saganoike Heikuro Masatora, a retainer of Kusunoki Masashige, killing the monstrous wild giant boar with a sword, 19th C
Yamamoto Kansuke, from the series Lives of Remarkable People Renowned for Loyalty and Virtue (Chûkô meiyo kijin den) 1845
Inamura Daikaku Masanori killing the monstrous witch cat of Koshin-yama, 19th C
Izumo no Imaro, 1834-35
Koshibe no Sugaru Captures a Thunder Monster in Toyora Village (Koshibe no Sugaru Toyora no sato ni rai o torau) 1834-35
Konjin Chôgorô, from the series Contest of Hot-blooded Heroes in Bold Patterns (Date moyô kekki kurabe) 1845-46
Honcho musha kagami (Mirror of Warriors of Our Country) Kintaro seizing Raijin the thundergod, 1855
MIyamoto Musashi, from the series A Suikoden of Japanese Heroes (Eiyû Nihon Suikoden) 1843
Matsui Tamijiro, sword in hand, fighting a giant snake, Edo Period
Chinzei Hachiro Tametomo and Raiden, god of thunder, at a waterfall in Kyushu, Edo Period
Nagasaki Kangayu-saemon, holding a large bow, riddled with arrows, and enveloped by a dragon. Edo Period
Sagi-no-ike Heikuro, fighting a giant python barehanded in the mountains. 1855
Poem by Ônakatomi no Yoshinobu Ason - Kamiya Niemon, from the series Ogura Imitations of One Hundred Poems by One Hundred Poets (Ogura nazorae hyakunin isshu) 1845-48
Saginoike Heikuro fights the giant snake at the lake of Sayama. 1830-32
Honcho musha kagami (Mirror of Warriors of Our Country) Iga Jutaro, his knee on a statue's head, reading a scroll; the witch Takiyashi-hime, holding a sword, 1855
Ding Desun using both hands to drive his sword into an enormous snake, 1827-30
Prince Yoshitsune (Ushiwaka-maru) practising fencing with the tengu under the direction of their king, Sojo-bo, with Kisanda in attendance, Edo Period
Honcho musha kagami (Mirror of Warriors of Our Country) Jiraiya loading his gun amongst rocks by a waterfall with a large green and yellow toad, 1855
Chusenko Tei Tokuson (Arrow-shot Tiger Ding Desun, 1845-50
Hodo Yoshitsune koi no Minamoto ichidaigami (Biography of Yoshitsune) 1848-53
Tenjiku Tokubei and Gama no Sennin, from the series Mirror of Warriors of Our Country (Honchô musha kagami) 1855
Chusenko Tei Tokuson (Arrow-shot Tiger Ding Desun, 1827-30
Moonlight over Mount Yoshino, 1886
Ario-maru, 1833-35
Akugenda Yoshihira, returning as a ghost, executes vengeance with a thunderbolt on his slayer, Namba Jiro (defeating the source of the evil). Edo Period
The arhat Nakasaina Sonja seated on a rock, with a dragon emerging from the bowl he holds. Edo Period
Ghost, 19th C
Actors Ichikawa Kodanji IV as the Ghost of Kozakura Tôgô, 1851
Benkei Fighting the Ghost of Taira Tomomori, 1818
A Scene from the Play "Ghost of Oiwa" (Tokaido Yotsuya Kaidan) 1836
The Apparition of Shichi-menjin at Mt. Minobu in the 9th month of 1277, 19th C
From The Life Of A Hundred Generals, 19th C
The Poet Dainagon Sees an Apparition, 1860 (version 2)
Asakura Togo Borei, 1851
Kamiya Iemon; Oiwa no bokon, 1848
Shrine Visit at the Hour of the Ox, 1853
The Story of the Sailor Tokuzô (Funanori Tokuzô no den), from the series Fifty-three Pairings for the Tôkaidô Road, 1845-46
"
The vogue for full-body tattoos of interlaced characters, animals and fish, the full arms and backs that writhe with complex figures and designs can be directly traced not only in their drawing but in their conception to the Japanese woodblock artist Utagawa Kuniyoshi. It was he, whilst trying to establish a flagging career in the 1820's in Edo (Tokyo) Japan, that conceived of decorating heroic, supernatural warriors with florid designs to emphasise their toughness and in some part to elaborate on their narrative.
Kuniyoshi was born Yoshisaburo and like Kunisada was apprenticed to the great woodblock artist Toyokuni I at his Utagawa School 1811. Kuniyoshi showed prodigious talent but unlike his colleague Kunisada failed to find commissions and it was not until the late1820's that he discovered his own style and overnight success with the release of his series of warrior prints Tūszoku Suikoden gōketsu hyakuhachinin no hitori - The 108 Heroes of the Popular Suikoden (1827). The novelty of these extraordinary, richly embellished and colourful single sheet prints made him successful and went on to heavily influence Japanese fashion and culture.
Kuniyoshi was quick to eclipse his rival Kunisada, at least artistically, and established his own workshop producing some of the finest and most inventive designs in the whole of Japanese art. His was an art of vigour, texture, decoration and mystery. Kuniyoshi not only established the mythological and the warrior print as a major genre, he went on to cover the vogue for portraits of beautiful women, animals, caricature and actor prints. He developed the triptych format of ukiyo print whereby a single element such as a gigantic fish or grappling warriors spill out of one sheet and into the other holding and sometimes bursting out of the cinematic format in distinction to the the previous static use of the form.
Not only one of the finest artists and designers that Japan has produced, Kuniyoshi was also highly intelligent, revelling in the elaborate construction of mitate-e or satire prints where the meaning of the subject is obscured or only alluded to by signs and symbols. This was necessary during the period of severe censorship known as the Tempo Reforms of 1841 - 1843 which halted the production of many woodblock artists." - quote source
More details on the life of Kuniyoshi can be found at Wikipedia.
Sources for the artworks include
The Metropolitan Museum of Art
,
The British Museum
and the
ukiyo-e archive.
A large selection of Utagawa Kuniyoshi's triptychs can be found in
this recent post.